This year we thought the big conversation in the UK would be Brexit and reaching a trade deal with the EU.
The COVID-19 pandemic pushed it off the front pages, but not the political agenda.
The big sticking points remain competition, fishing rights, collaboration on security and the jurisdiction of the European Court of Justice.
But with many UK businesses busy struggling for survival, a new trading environment with the EU might be the last thing on their minds.
Pre-pandemic, smoked salmon purveyor H. Forman & Son's main business was wholesale supply to places now mostly closed. So, in lockdown, it has scaled up online sales.
"Literally mid-March we were getting 300 orders a day from restaurants and hotels in London. The next day, none. But we did have an online home delivery, which was busy at Christmas time," said boss Lance Forman.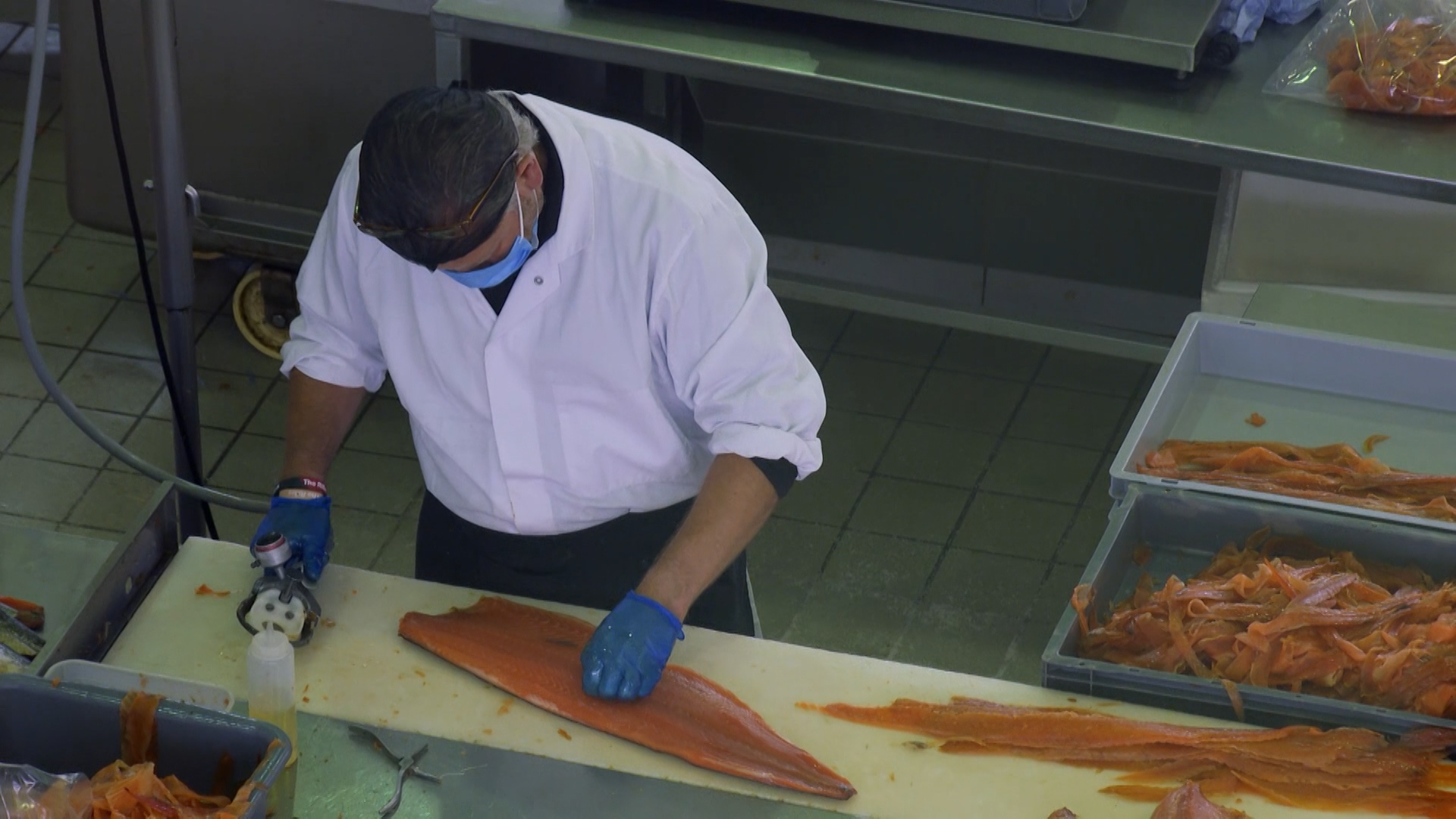 H. Forman & Son sells smoked salmon to some of London's leading restaurants but has focused on home delivery services since the lockdown began. /CGTN
H. Forman & Son is a 115-year-old family firm based in Fish Island, East London. It exports to 35 countries around the world.
"Life throws curveballs," Forman said. "You have to adapt. We developed that [the online] side of the business and it has grown to be 20, 25 percent bigger than it would typically be at this time of year, and helped us plug a gap in the restaurant and hospitality side that is missing."
If Forman seems upbeat about economic prospects it is because he has had other fish to fry.
Briefly a Brexit Party MEP, he campaigned for the UK to leave the EU and does not think Britain's future is tied to a trade deal.
Read more: Britain after Brexit
"COVID-19 has really put Brexit into perspective, we've spent three years arguing about frictionless trade and yet in three months we had no trade, the economy has been closed down and businesses have had to work out how to deal with this new world. Brexit, by comparison, will be a doddle," he said.
"We do more trade in the U.S. than we do in Europe, and in the U.S. customers have to spend five percent duty on our salmon. People just assume price is everything in business, price isn't everything," he added.